On October 10, Winifred Muench and Christel Veraart, the co-founders of the REFLECTIONS FESTIVAL, an affiliate intricately connected to Sedona Ballet, of which Winifred is the Chairman, were invited to Sedona City Hall to participate in its "Moment of Art." During this occasion, the two women shed light on the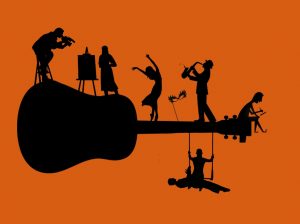 essence of the REFLECTIONS FESTIVAL, shared the story of how their collaboration came to be, and concluded their moment of art with Christel, who is a trained classical vocalist, taking the stage to perform her rendition of Giulio Caccini's Ave Maria.
Christel's rendition of this particular Ave Maria resonated with the hearts of many, amassing over half a million listeners on SoundCloud. It has been released as a single and is available on most major digital platforms. In case you missed our moment of art, below you can watch a video that was shot shortly after. We are grateful to costume designer Rosemary Mays, a well-known name around town, for her fashion advice and the beautiful design of Christel's shawl.
Moment of Art
After a brief introduction by Arts and Culture Specialist Nancy Lattanzi, a video was shown to highlight Sedona Ballet's world class Nutcracker Performances featuring the Phoenix Ballet. The following video clip showcases the remarkable proficiency of Sedona's young dancers on stage. Remarkably, four of these talented young dancers have gone on to pursue professional or pre-professional careers in dance. This achievement is particularly exceptional, as only a tiny fraction of children who study dance ever reach this level.
Winifred Muench and Christel Veraart shared their collaboration and the inception of REFLECTIONS FESTIVAL. Their diverse skills and talents have undoubtedly played a significant role in shaping this initiative, allowing them to blend creativity, vision, and financial expertise. Christel's multifaceted talents as a composer, singer, lyricist, and visual/audio creative expert bring a unique artistic flair to the project. Her ability to craft compelling narratives through graphics and narration adds profound emotional depth to their presentations. Meanwhile, Winifred's financial acumen ensures the practical aspects of their vision are realized, enabling them to secure the necessary funding and resources to bring their creative ideas to life.
The birth of REFLECTIONS FESTIVAL during the pandemic speaks to their resilience and determination to enrich their community's cultural life, even during challenging times. The successful completion of their inaugural project, the film "Merope," and its participation in international film festivals, highlights the quality and impact of their work.
As they embark on their next phase, "Nostalgia," it's exciting to envision the creative wonders they will unveil. With their combined expertise, dedication, and innovative spirit, REFLECTIONS FESTIVAL is undoubtedly poised to leave a lasting mark on Sedona and Arizona's cultural landscape. Their story serves as a testament to the power of collaboration, creativity, and the pursuit of a shared vision.