Merope – A Journey to Authenticity
This week Sedona based Levi Holiman will be Director of Photography in Merope – A Journey to Authenticity, a short film by Juan Carlos Zaldivar that features dance & choreography by Jordan Pelliteri, visual art by Max Ernst, Dorothea Tanning, Amy Ernst, Jim Peterson and Glenn Grayson, poetry by Nikita Gill and Hermann Hesse to the music of composer and singer Christel Veraart, who also wrote the story line. This short film is the first phase of the brand new multi disciplinary arts initiative Reflections Festival that aims to enrich Sedona and Arizona's cultural life. Grateful for the support of the Arizona Commission on the Arts, Flinn Foundation, City of Sedona, Sedona Conservatory, and the Sedona Arts Academy, the film is scheduled to premiere later this year.
Levi Kind Holiman was born in Santa Ana, California to Audrey and Don Holiman, a retired war veteran and postal carrier. The family moved to Sedona, Arizona when Levi was 6 months old. Don watched "Apocalypse Now" on loop, which sparked Levi's love of movies and magnetic draw to movie making. Levi spent the first 10 years of his life in Sedona and then moved to Kona, Hawaii until he was 16 years old. The family then moved to Phoenix where Levi lived until he moved to Los Angeles in 1998.
In Los Angeles, Levi lived at his Aunt's house with no Heat, AC or hot water. Levi worked as a background actor to get his SAG card on series such as Days of Our Lives, The Love Boat (Reboot), NBC Mini-Series the 60's and 70's, Popular and many others. While auditioning and collaborating with the LA Film School, Levi wrote his first short "All Good Things" which was an official selection of the 2003 Tribeca Film Festival. Levi began to do more writing and work behind the camera focusing on his own projects.
In 2008, Levi volunteered with Sean Penn's Dirty Hands Caravan to support the clean up efforts in the 9th Ward, New Orleans following Hurricane Katrina. Levi spent the next two years working in Louisiana in front of the camera on HBO's "Treme" and Madden Football commercials. He spent most of his time behind the camera producing for a local production house that set up shop to take advantage of the Louisiana Tax Credit program.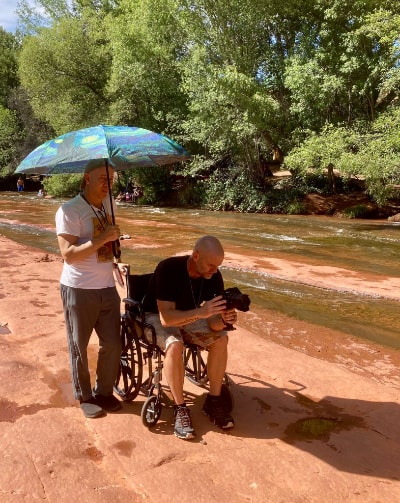 Levi co-wrote and directed his first feature, "Normal Types" in Baton Rouge, Louisiana. Filming his first movie was a difficult experience; the budget was reduced from $300K to $15K a few weeks prior to shooting but instead of halting production, Levi called in a bunch of favors which contributed to some fractured relationships including his relationship with his lead actor, co-writer and girlfriend, which did not survive after principle photography ended.
Levi returned to LA to complete the post-production on "Normal Types" and continued writing and producing. During the next few years, Levi worked as cinematographer on many shorts and music videos. He was also the director of photography on Boost and Avenge the Crows.
During this time, Levi also wrote, directed and shot his next feature GOD SEND which is loosely based on his family's experience in religious church cult. GOD SEND was an official selection of IFS Film Festival in L.A. the Ojai Film Festival and the Madrid International Film Festival. GOD SEND won the awards for Best Director and Best Film at the Madrid International Film Festival.
Levi is in pre-production for his next project, "The White Chair", which is based on the true stories of Iraqi Veterans combatting Post Traumatic Stress Disorder. (Mini Biography By: Theraysa Gapasin)
Contributors: Merope – A Journey to Authenticity